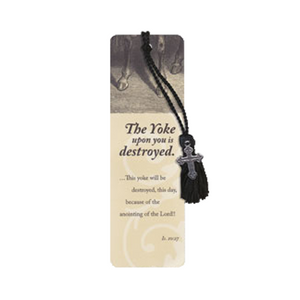 Our bookmarks are great companions to your readings and are beautifully adorned with a black tassel and silver cross. Each are 7" long, 2.25" wide and are individually packaged in plastic.

Front
"…This yoke will be destroyed, this day, because of the anointing of the Lord!" (Is. 10:27).
Back
"So if the Son sets you free, you will be free indeed" (John 8:36).