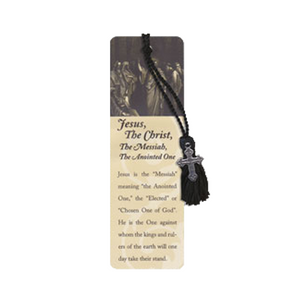 Our bookmarks are great companions to your readings and are beautifully adorned with a black tassel and silver cross. Each are 7" long, 2.25" wide and are individually packaged in plastic.

Front
Jesus is the "Messiah" meaning "the Anointed One," the "Elected" or "Chosen One of God." He is the One against whom the kings and rulers of the earth will one day take their stand.
Back
"Christos," from which we get the word, "Christ," used hundreds of times in the New Testament, is the Greek equivalent of "Messiah," and also means "the Anointed One." The disciples of Christ were called "Christianos" (Acts 11:26) recognizing them as followers of Christ "the Anointed One."